plentyDrive
plentyDrive offers a 2-way file synchronisation between your plentymarkets Cloud storage and your local hard drive. It greatly speeds up the plugin development process.
Note: plentDrive is currently not compatible with Windows 10. If your operating system is Windows 10, please use Git webhooks to add your plugins to your system instead.
Installation
Click the link to access plentyDrive on the plentyMarketplace. Select the route for your operating system and follow the respective installation routine.
Configuration
Follow these steps to complete the setup of plentyDrive.
Open plentyDrive.
Enter your plentymarkets domain. Use https:// or http://.
Enter your login data.
Click on Login.
→ PlentyDrive is logged in to your system.
Click on Settings.
Select an empty local folder to be synchronised with your plentymarkets Cloud storage (S3).
Select the plugin sets which you would like to sync.
Save the settings.
→ plentyDrive will restart.
→ The configuration is complete.
Folder Structure
PlentyDrive works with a local "sync folder".
After you picked the Plugin Sets you would like to synchronise, your "sync folder" should look similar to this: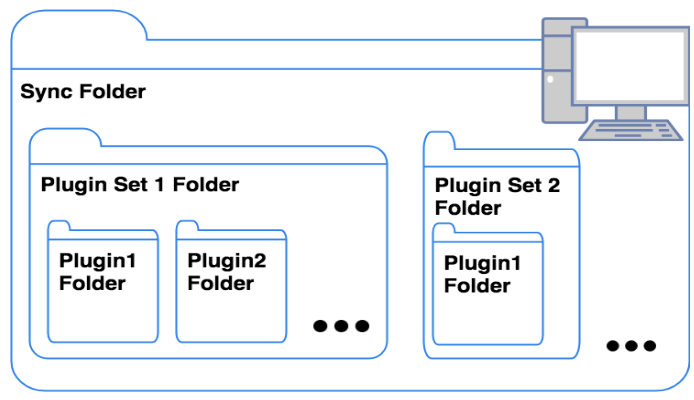 Usage
plentymarkets back end
You should activate plentyDrive automatic build so that the changes made to plenty-drive files are automatically visible. After the initial synchronisation of a new plugin via plentyDrive you need to save & deploy manually once in order for plentyDrive automatic build to do its work.
plentyDrive Files & Folders
Plugin Set folders:
The subfolders in the "sync folder" are numerical "Plugin Set Identifiers". You should not create, edit or delete a subfolder in the "sync folder" directly. The subfolders in your "sync folder" are automatically created and deleted.
Plugin folders & files:
The plugin folder name must be identical to the plugin name defined in the plugin.json. A valid plugin in your plentyDrive "Plugin Set folder" is automatically installed for the plugin set you choose.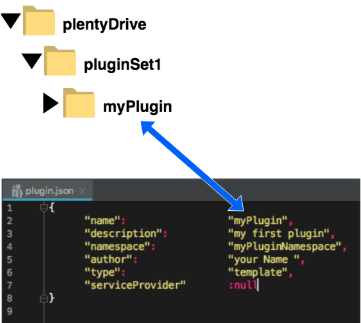 You can create a .gitgnore file n a Plugin Set folder to exclude files from the synchronisation process. Check out https://git-scm.com/docs/gitignore for more information.
Closed-sourced and open-sourced plugins:
Only open-source plugins will be synchronised. You can switch your plugin to closed-source when you release it.
Plugins with same name from different sources:
First and foremost, we do not recommend having plugins with the same name from different sources in your plentymarkets system.
It is possible to have multiple uninstalled plugins with the same name from different sources (marketplace, git, local) in a plentymarkets system. It is however not possible to have multiple plugins with the same name installed or active in one Plugin Set.
Note: Plugins which are integrated via git are initially uninstalled, plugins synchronised via plentyDriveplentDrive are initially installed.
Terra preview
When building a back end UI, there is currently no way to test it. With plentyDrive, you can not only test it, but do so with the same speed plentyDrive lends other plugins.
In the plentyDrive menu, click on Open Terra preview.
→ An emulated Chrome window will open. plentyDrive uses the login session of the system to forward all requests with CORS.
Make changes to your plugin in the local folder.
→ plentyDrive recognises any file changes and copies the respective file into the stage directory.
→ Your changes are immediately visible in the browser.